Introducing the MY.GAMES Content Creator Program
Create amazing content, enjoy the benefits!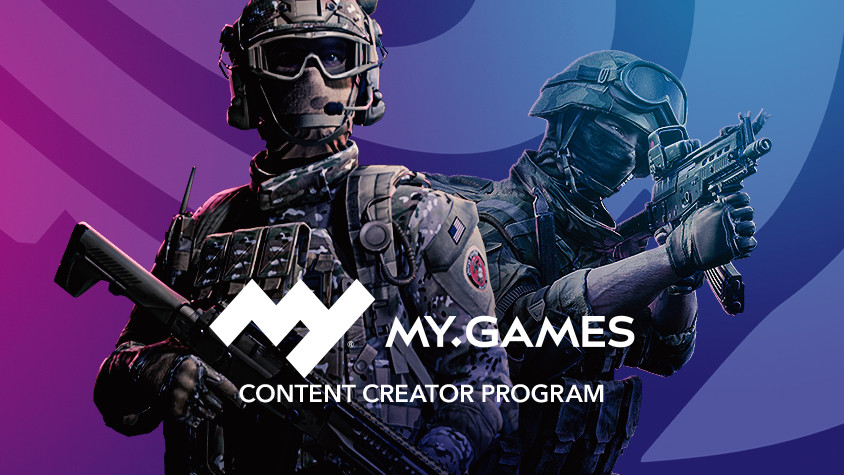 The MY.GAMES Content Creator Program is an opportunity for content creators, streamers, social media influencers, and other creatives to earn revenue, rewards and grow their channels in close partnership with the games they play!
BENEFITS
There are many ways we strive to support our creators, including:
Revenue Sharing: Joining the Content Creator Program makes you eligible to earn revenue, depending on which game you're creating content for. Read more about revenue sharing here.
Exclusive Events: As a member of the program you become eligible to participate in creator-exclusive events such as Previews & Twitch Drop campaigns.
Giveaways: Creators are provided with codes that can be given away to their audiences to reward them with in-game items and content. More information about giveaways can be found here.
Promotions: Your channels, videos, and streams have the chance of being featured on games' official social channels and websites.
Rewards: Creators receive in-game items like skins and cosmetics, premium currencies, Battle Passes, early unlocks, and more. This allows you to stay on top of the latest content and offer the most interesting and up-to-date gameplay to your audiences.
Connect with the Team: When you join the Content Creator Program, you gain access to the teams behind our games, who will be available to provide news & information and help organise the promotion of your channels and activities.
ELIGBILITY
The Content Creator Program is designed to benefit a variety of creators, including video creators, streamers, social media influencers, wiki operators and editors, cosplayers, and more.
While we strive to support as many languages as possible, some knowledge of English will be necessary in order to work with our colleagues.
If you have a large audience and are looking to partner with MY.GAMES outside of the Content Creator Program, please feel free to contact us directly.
HOW TO SIGN UP
Signing up for the MY.GAMES Content Creator Program is quick and easy! All you need to do is fill out and submit the application form.